So I am currently on my layover in Frankfurt from London to Nurnberg. It should have been a quick flight with an easy layover, but then my first flight was delayed... which in turn made me miss my connecting flight to Nurnberg. So here I am... waiting another 3 hours to get home, so I figured the best way to pass the time is to write a bit in the blog about Berlin.
Andrew and I travelled to Berlin Easter weekend which also coincided with Andrew's Birthday! (April 2nd). The great thing about Germany is we get off the Friday before and the Monday after Easter, which makes for a perfect little birthday getaway. I also have to add in, we just happened to time it PERFECTLY and we bought and picked up our new VW Golf only days before this trip.
The drive to Berlin is about 4 hours from Herzo (we were still living in temp housing at the time). So I got to test out my new manual driving skills. A word to the wise: there are quite a few 'blitz' cameras to and from Berlin, which Andrew and I both got blitzed... so we're waiting on our tickets to come in the mail.
We stayed at The Steigenberger Hotel, which was the perfect location right next to the Hbf (the main train station). It was a beautiful hotel with extremely helpful staff which gave us some great recommendations. We also bought a 48 hour train/bus ticket (I think about 15 euros each?) which allowed us to use any form of their transportation. This was one of our best decisions as we used it to get everywhere in Berlin (including the football (soccer) game).
Once we got there we parked the car, dropped our bags off and started walking. My favorite thing to do in a city is stroll through the streets with Andrew, and find a cute little café/farmers market/restaurant (basically anything having to do with food). We walked through Alexanderplatz and they had a little Easter festival setup... and then we had to take the typical Berliner Fernsehturm picture (the tall radio tower).
For dinner we went to a beautiful little French restaurant, Ganymed Brasserie, and it was by far our favorite restaurant in Berlin. When we go to dinner we usually prefer to sit next to each other vs across from each other... and as the wonderful French manager sat us at our table, he said there is apparently a French saying for this... basically about going through the world together and viewing life from the same perspective... (I wish I could remember it in French!). After living in Germany for two months and having more sausage than we'd imagine, we were completely prepared to order everything "typical French" on the menu. Which included steak tartare (which they prepare at your table!), oysters, escargot and steak frites and then of course some profiteroles with ice cream to finish the night. Like I said, highly recommend!
The next day we started the morning in the west area of Berlin for some brunch and window shopping. We found a great little brunch place, Cappuccino Grand Café, where we could sit outside and people watch the millionaires walk by (seriously, parked out front was a Lamborghini, Ferarri and several other amazing cars).
Then we walked over to Check Point Charlie, which is the best-known Berlin Wall crossing point between East and West Berlin. There were a lot of pictures to show what it used to look like, and to give you a quick history lesson (which i'll admit, we needed). Otherwise you could see where the old 'booth' used to be and you can take pictures with apparently "American Soldiers" (for 2 euros)... but i'll admit, I am positive that Andrew and I were the only Americans in that picture.
We walked through the 'hipster/trendy' shopping area just north of Alexanderplatz, and then stopped for a delicious burger & beer at Shisho Burger.
The next day, Easter Sunday, we decided to venture out to another area of Berlin. We took the train out east towards Freidrichshain. This is apparently the 'younger/college' area. This is also the area of the crazy night clubs. When we got off the train, it felt like a completely different world. Everything was run down, there was graffiti everywhere, garbage all over the floor... I quickly held onto Andrews arm even tighter. After our Easter Brunch we started exploring the area. Along the train tracks we could see a highly graffiti-ed area that you had to walk down to..... it almost looked like a thrift shop street being run by homeless people... I naturally said "lets go check this out!". It was quite possibly the oddest place I've ever been to, the brightest graffiti along crumbling walls.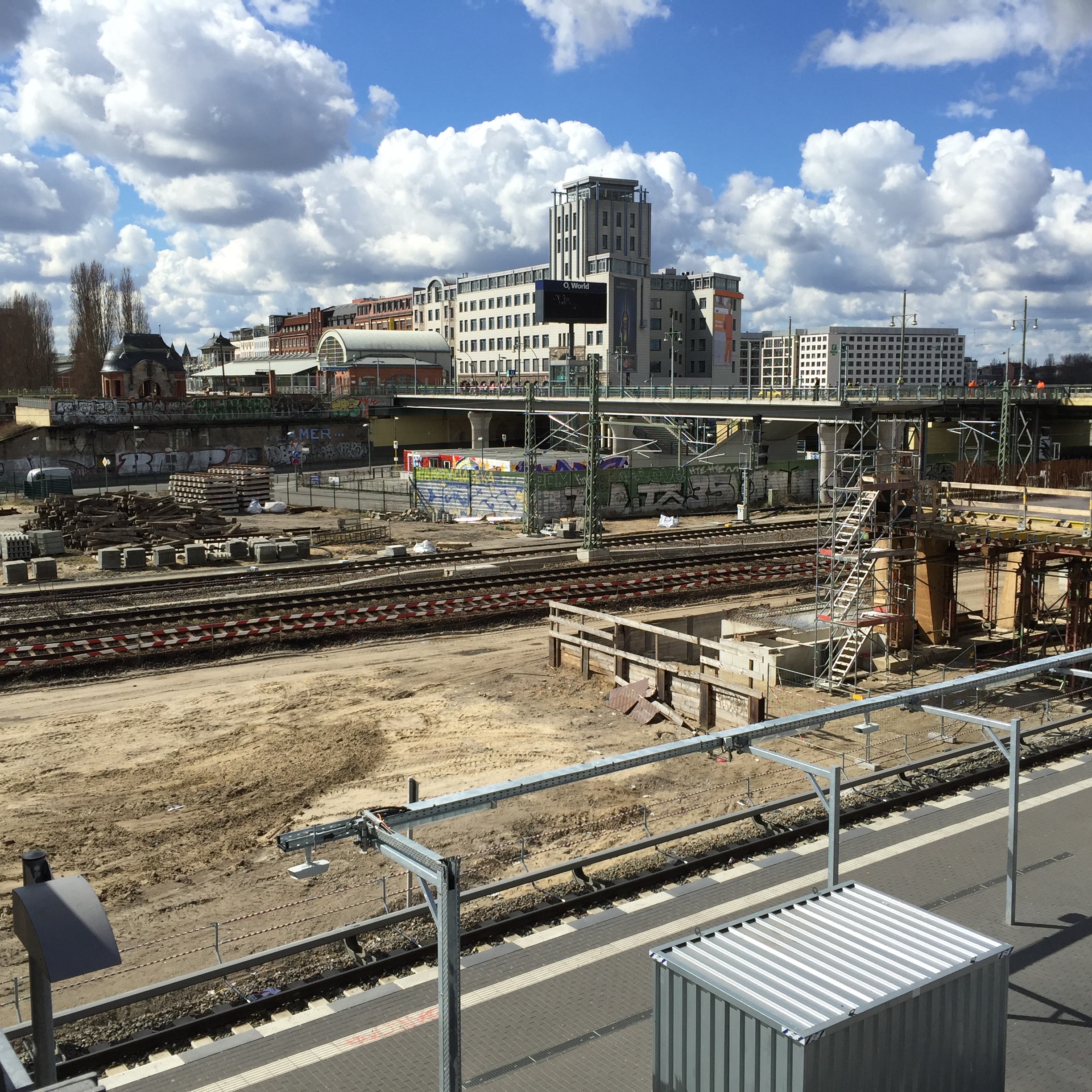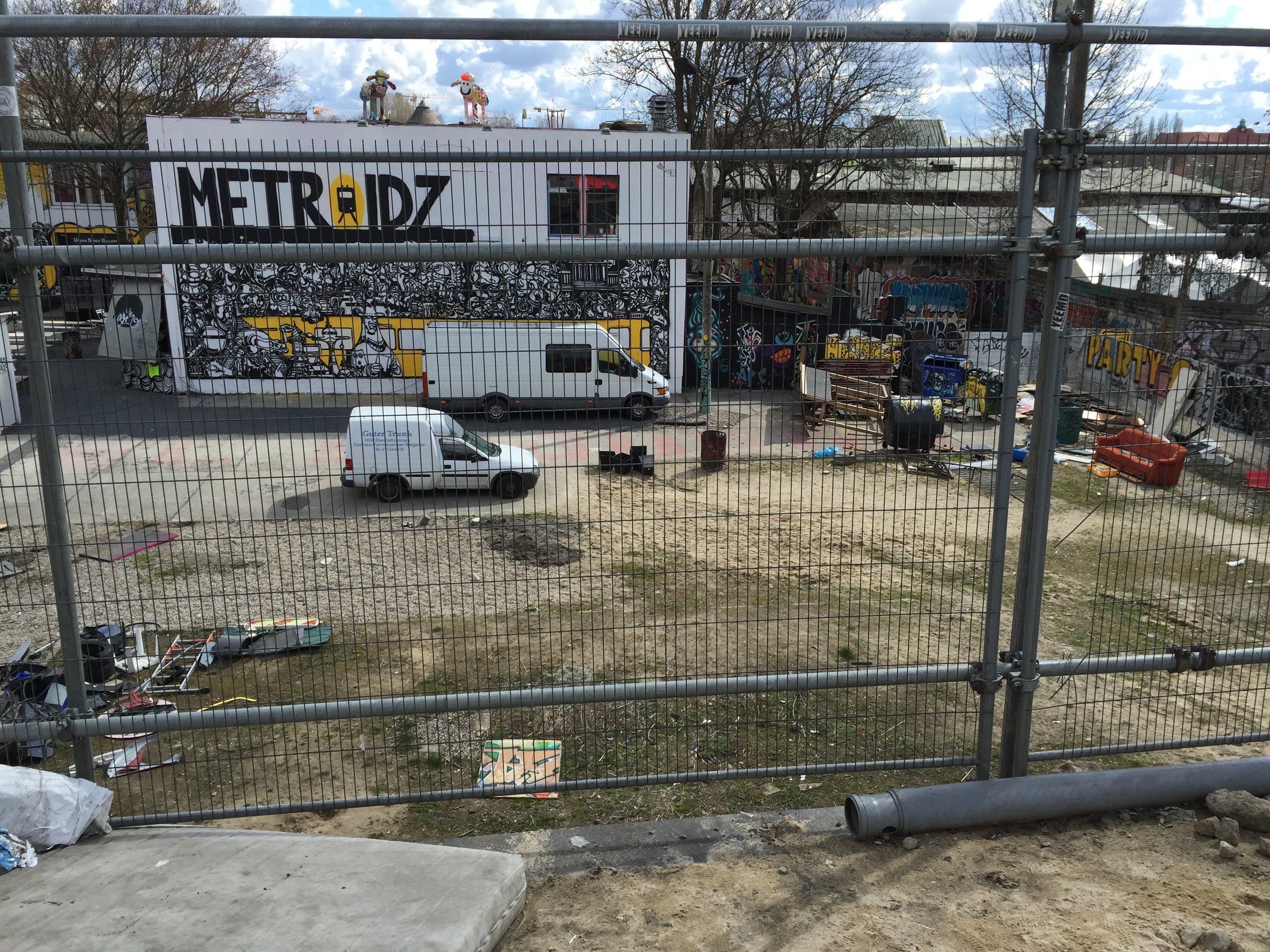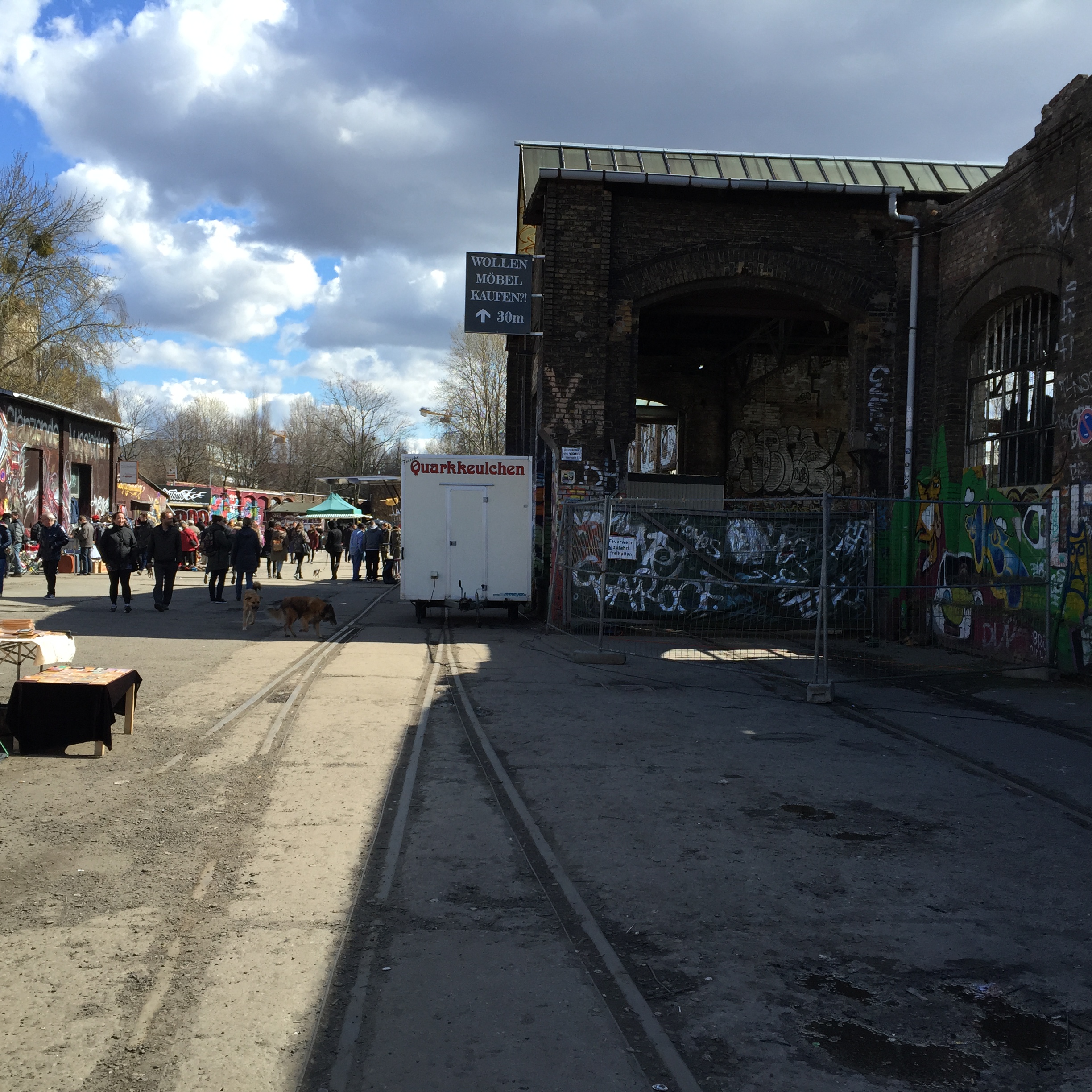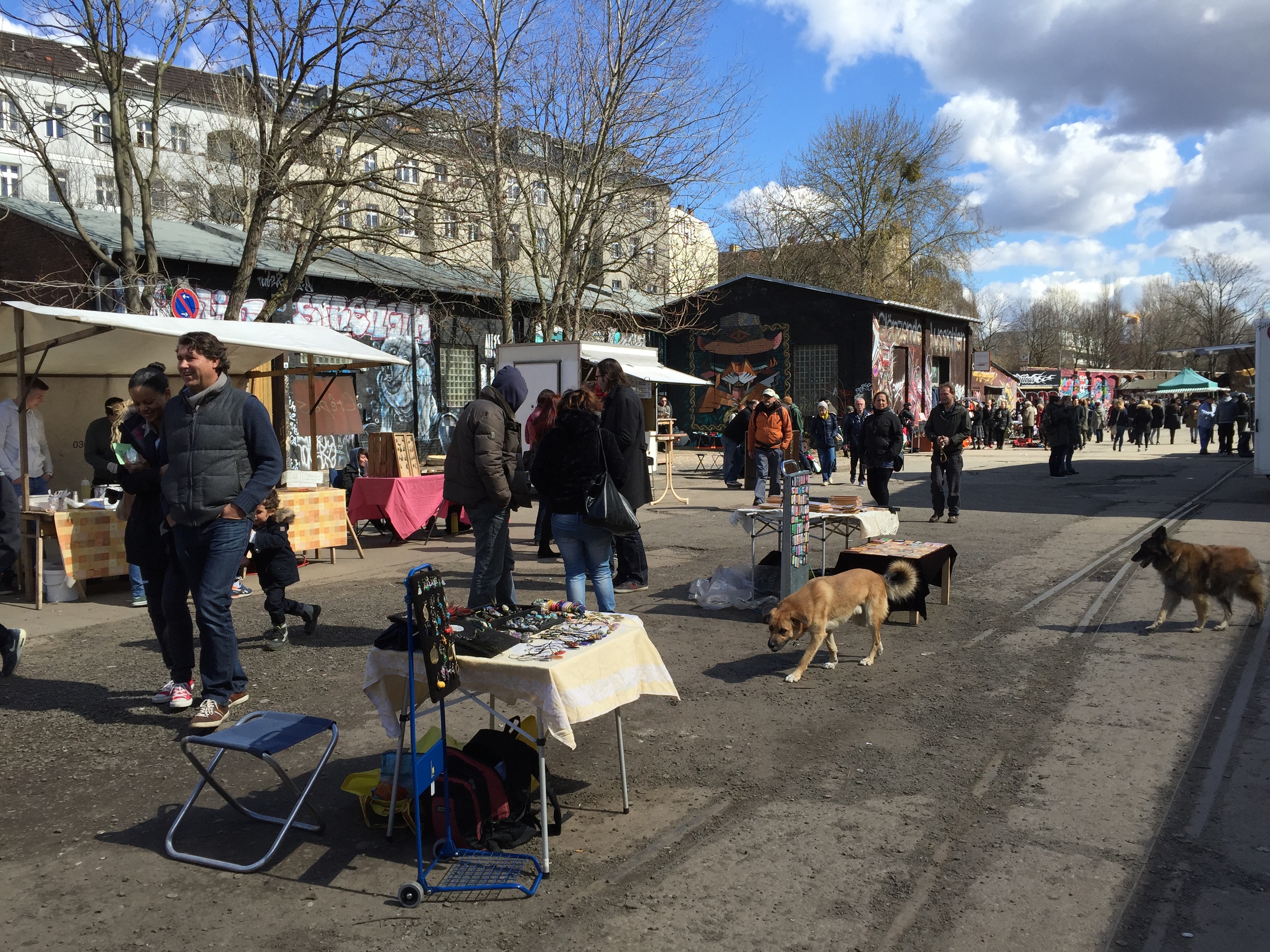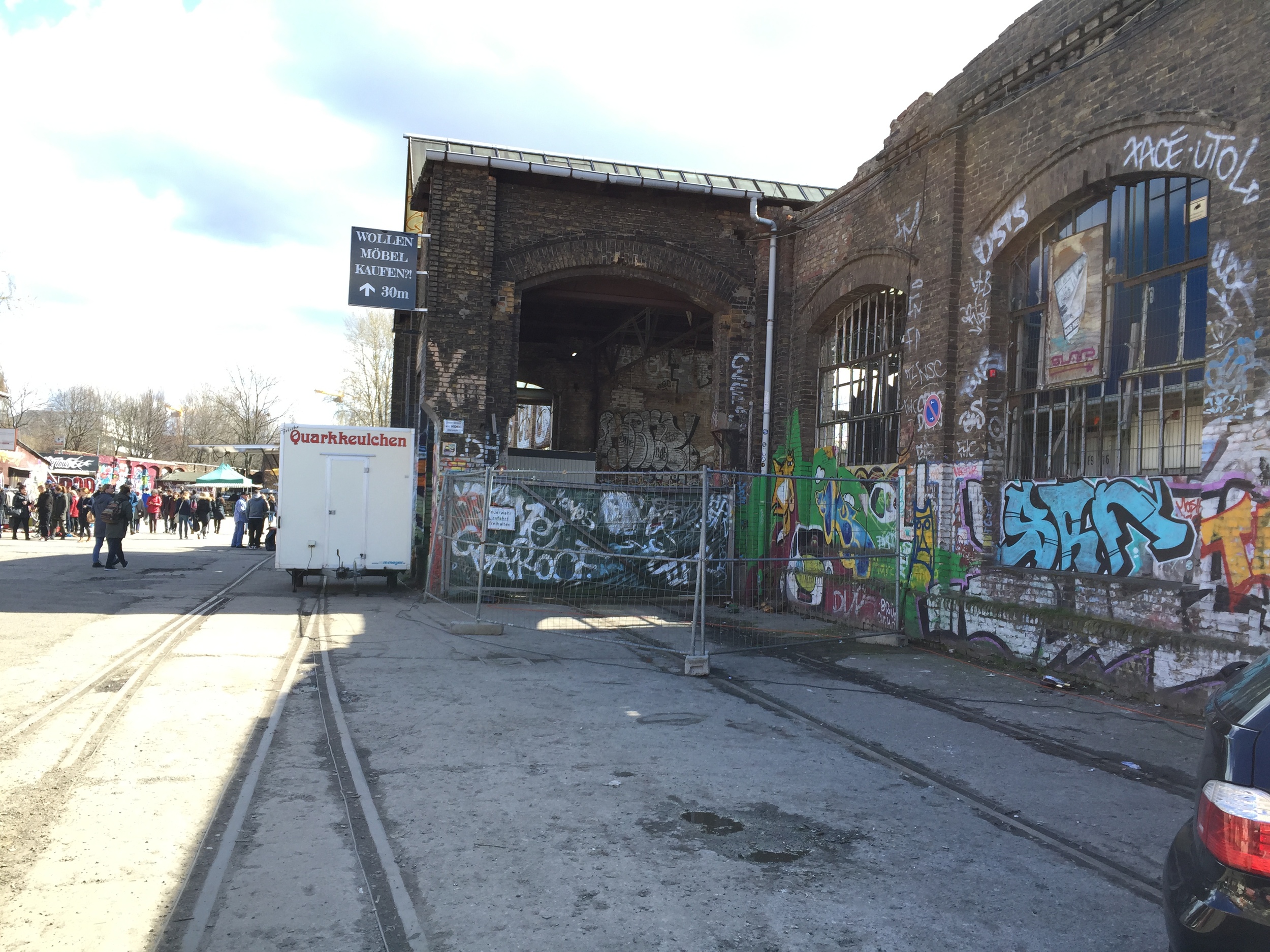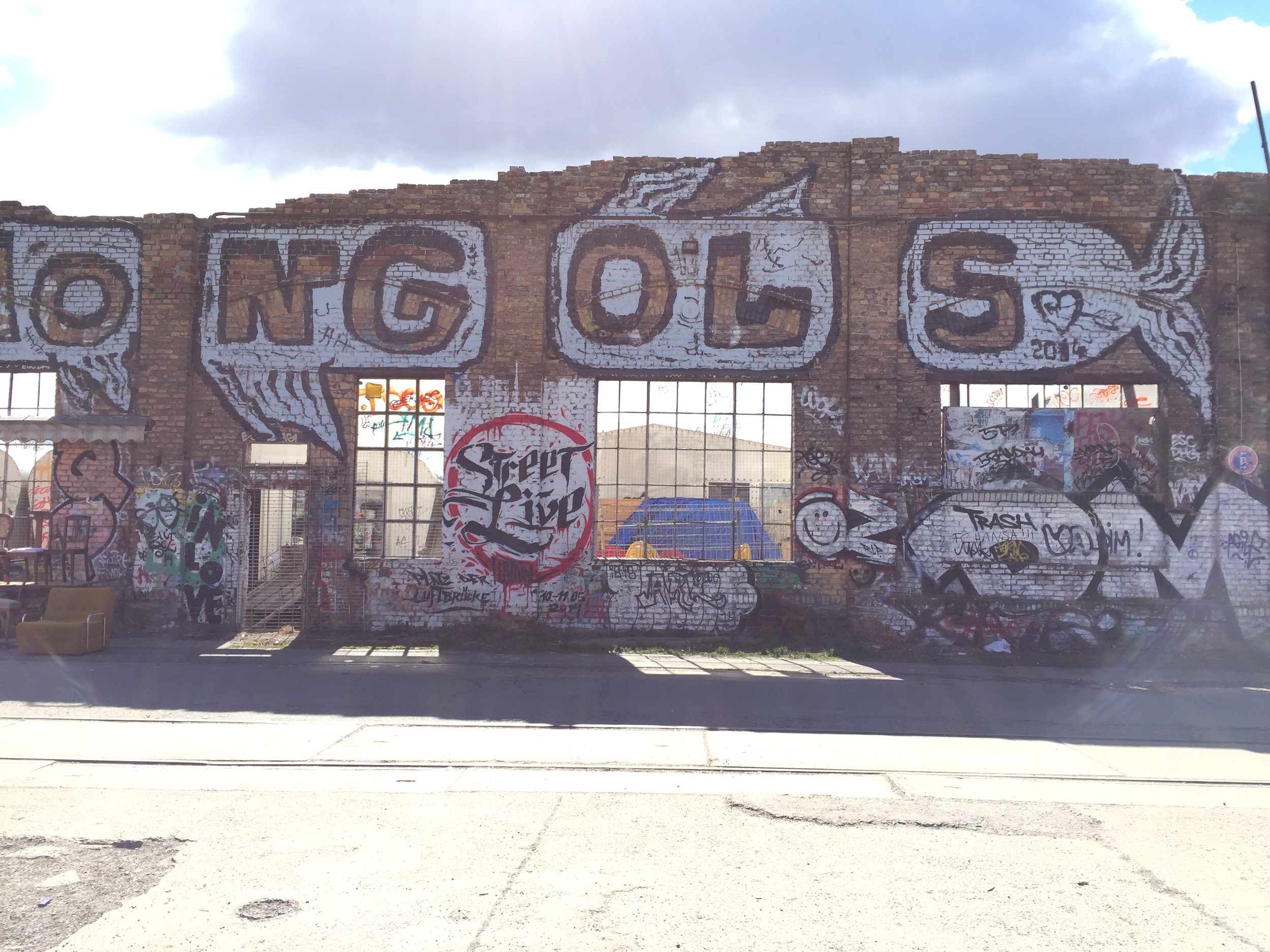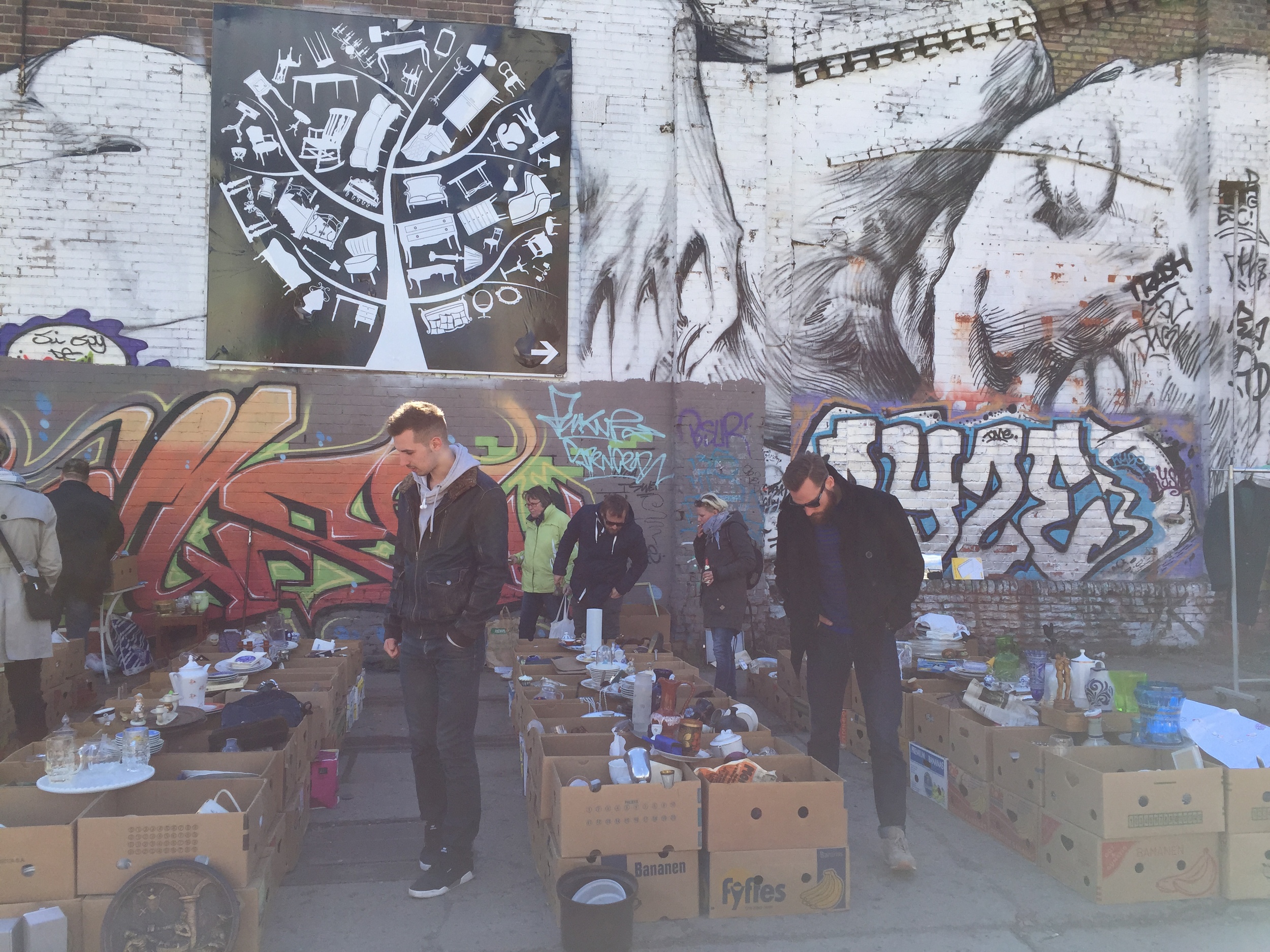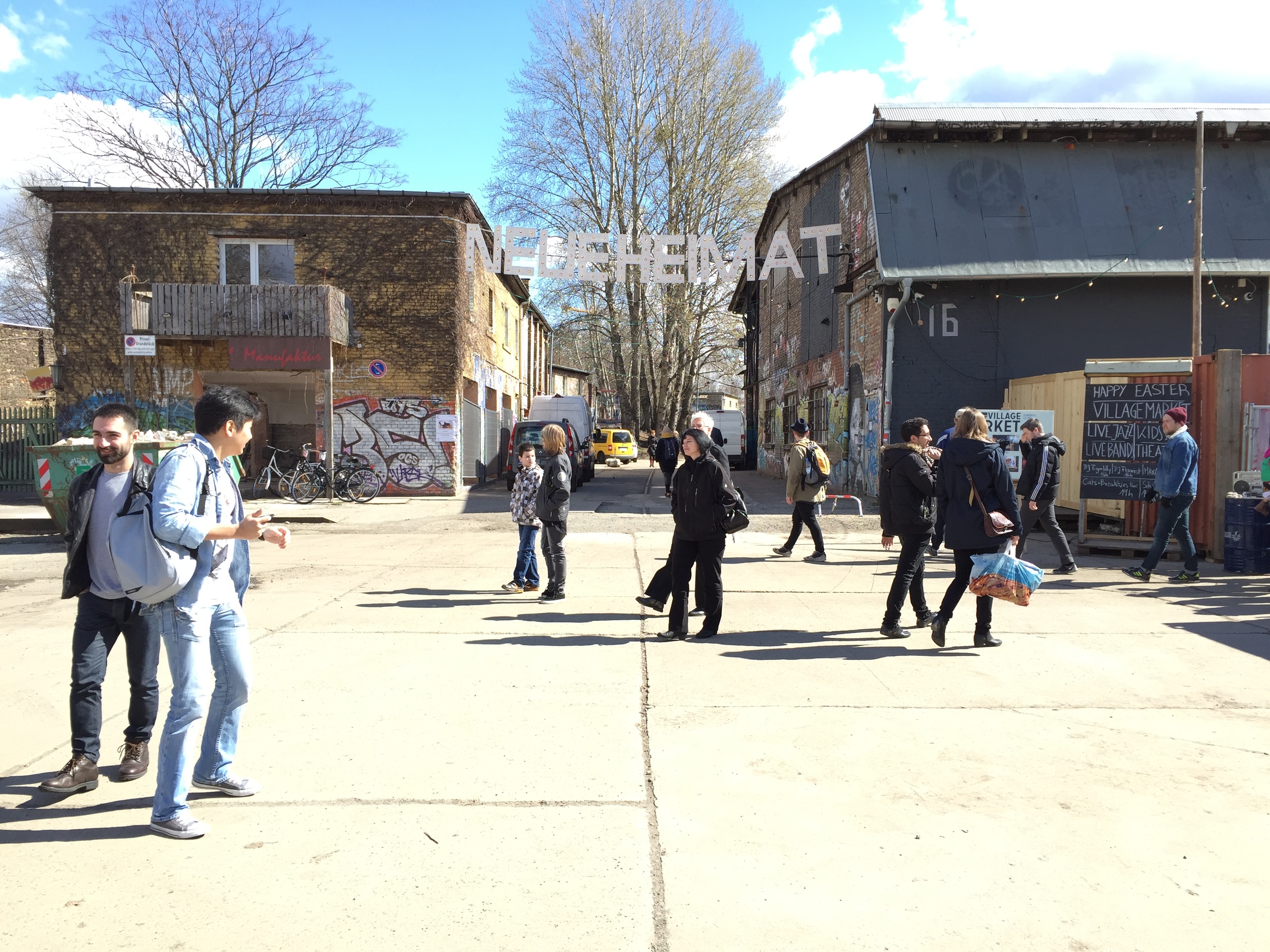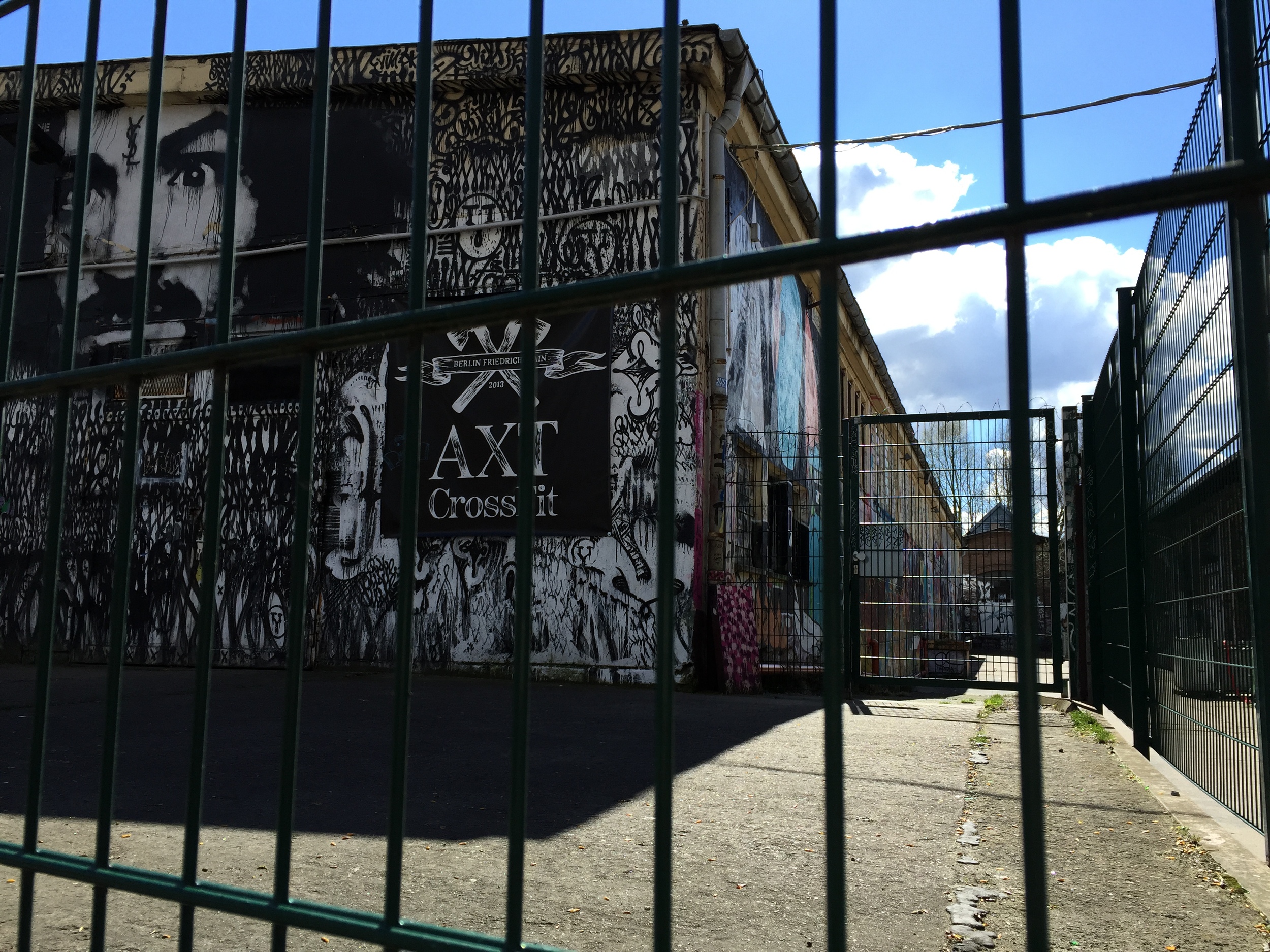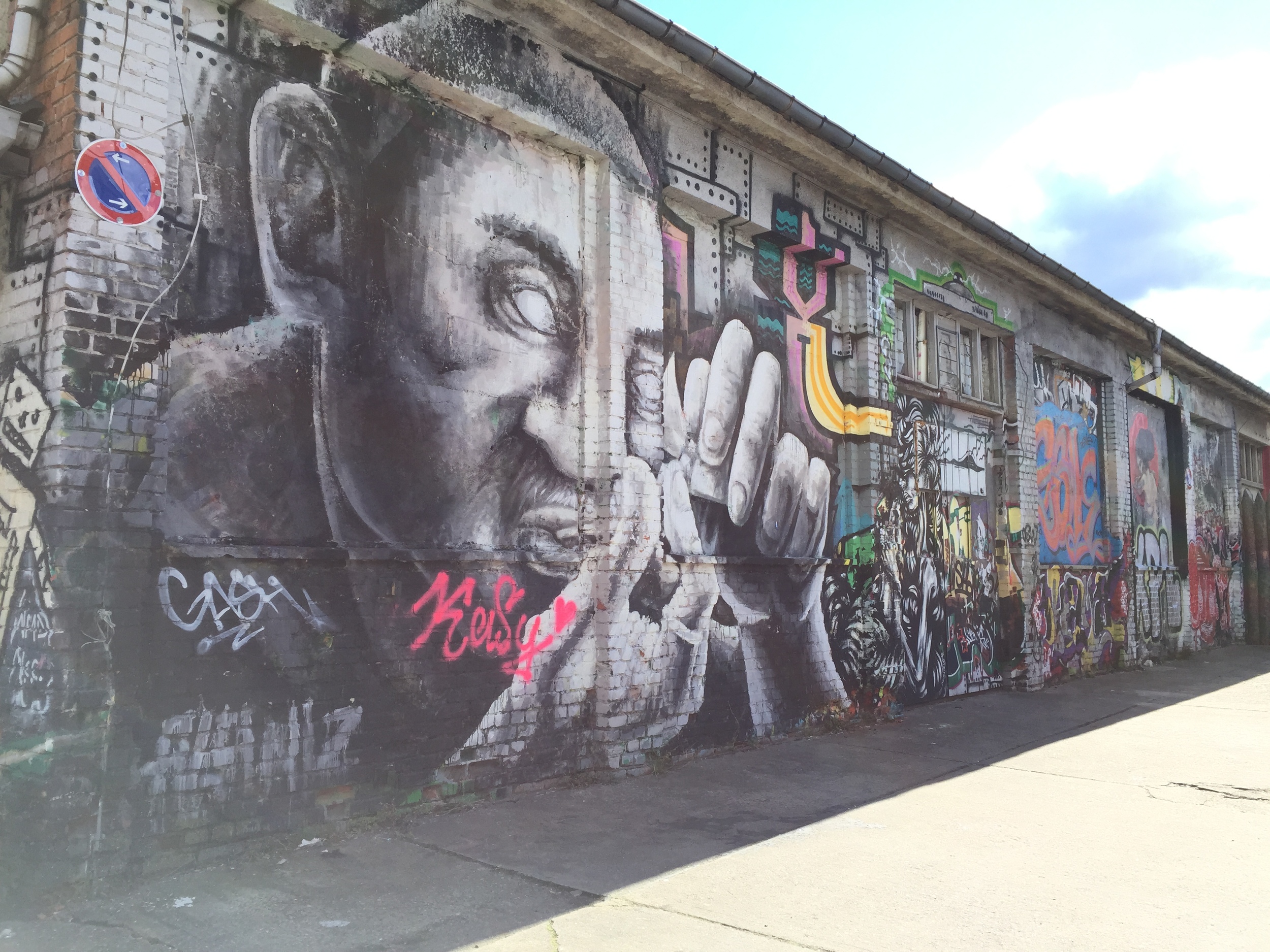 Then we passed by a place that said "The Village Market", where you could apparently pay 3 euros to get in. We decided to check it out. It ended up being the most AMAZING place. It combined all of my favorite things, amazing food trucks, great drinks, café lights and live music. The actual name of the place is Neue Heimat, where apparently several guys got together and decided to refurbish/transform an old graffiti-ed railway station into this amazing urban space. This was by far my most favorite place we found in Berlin.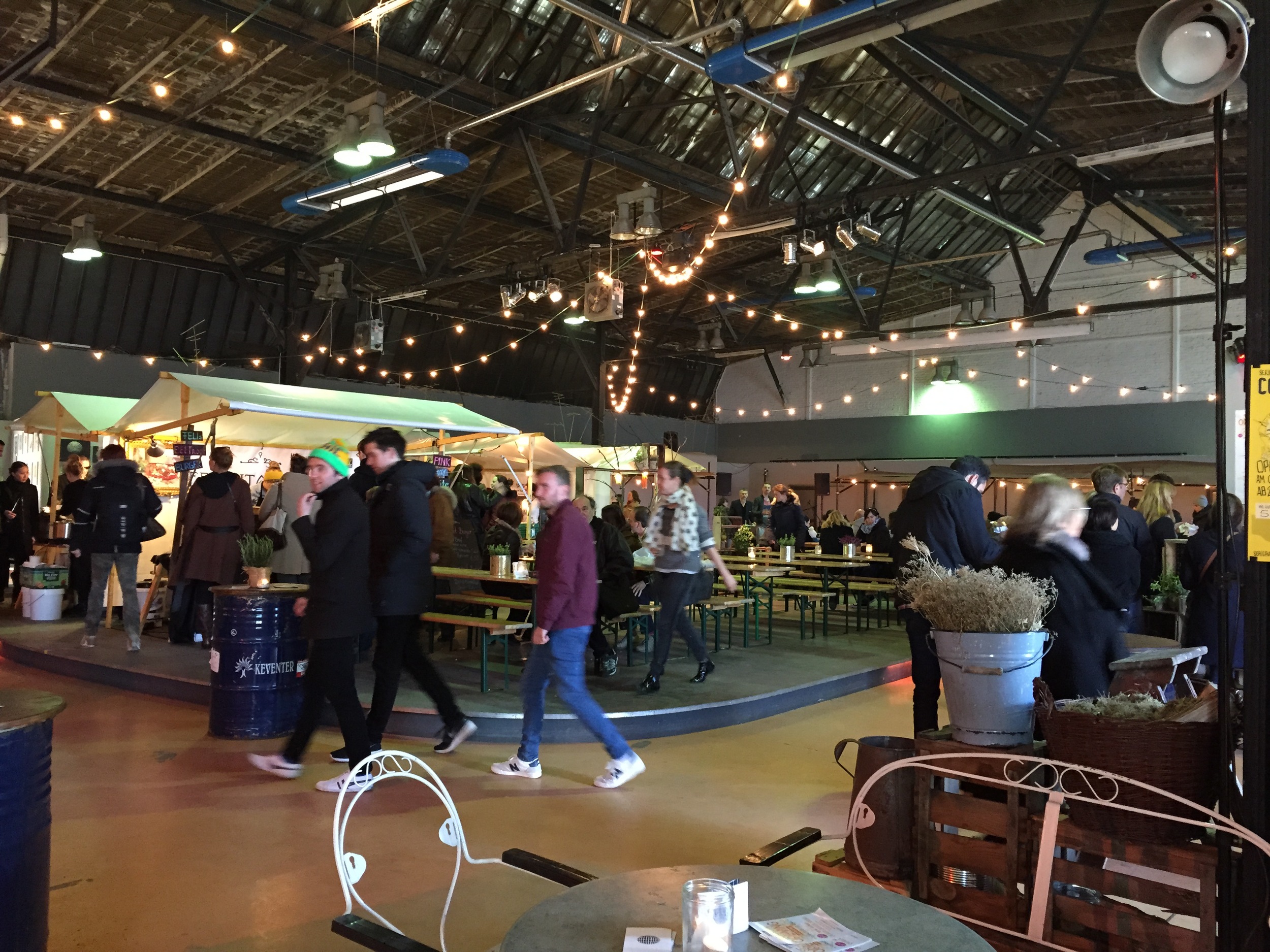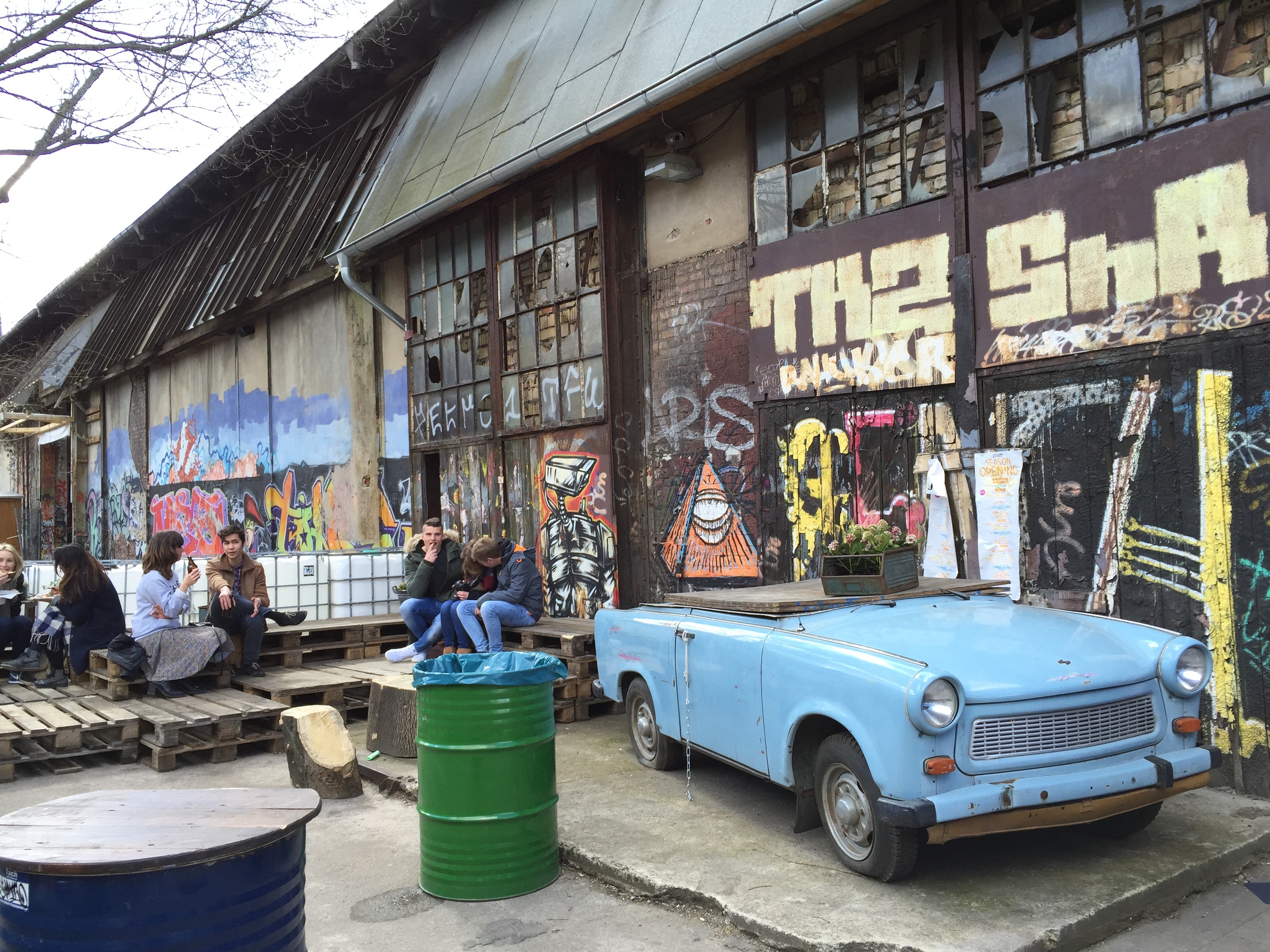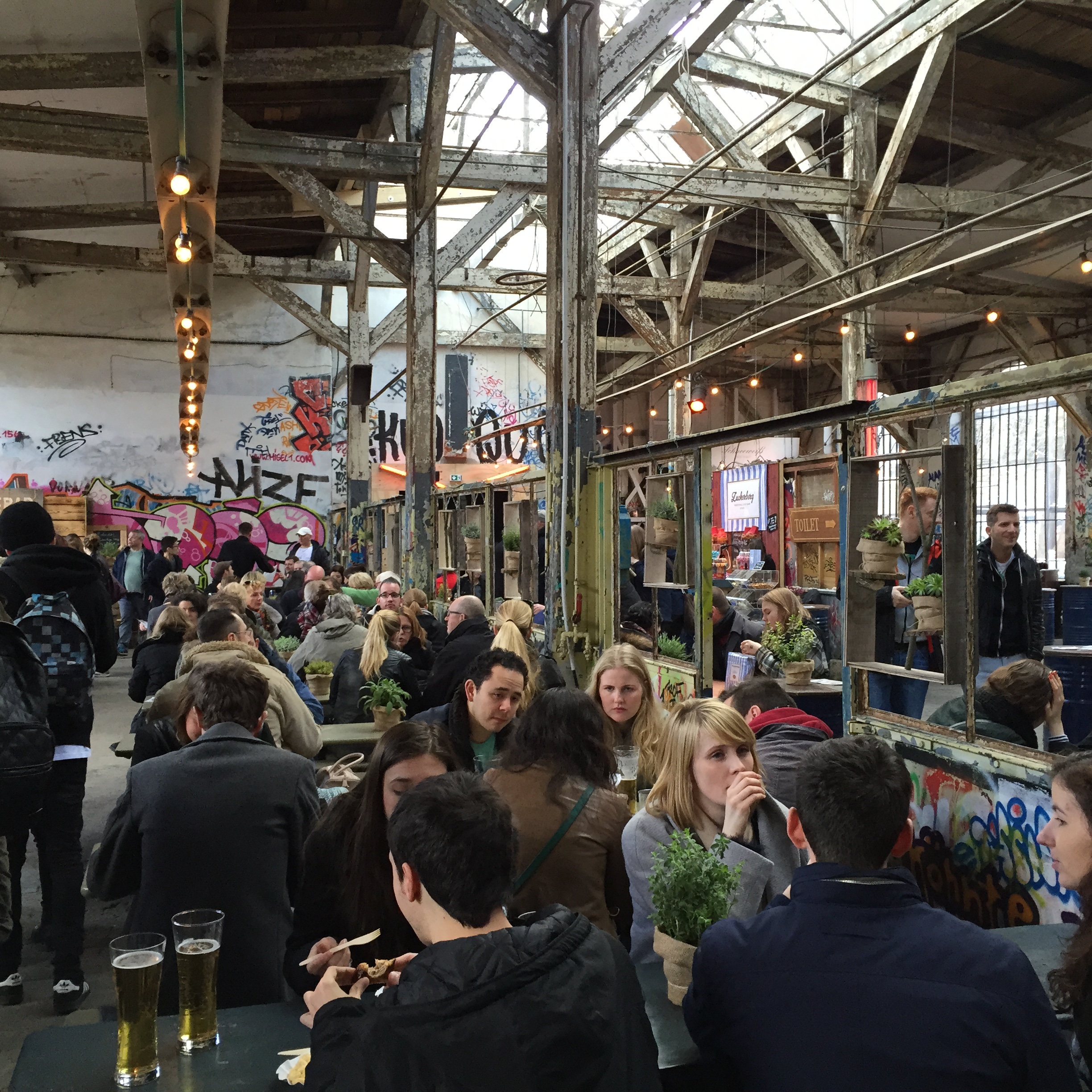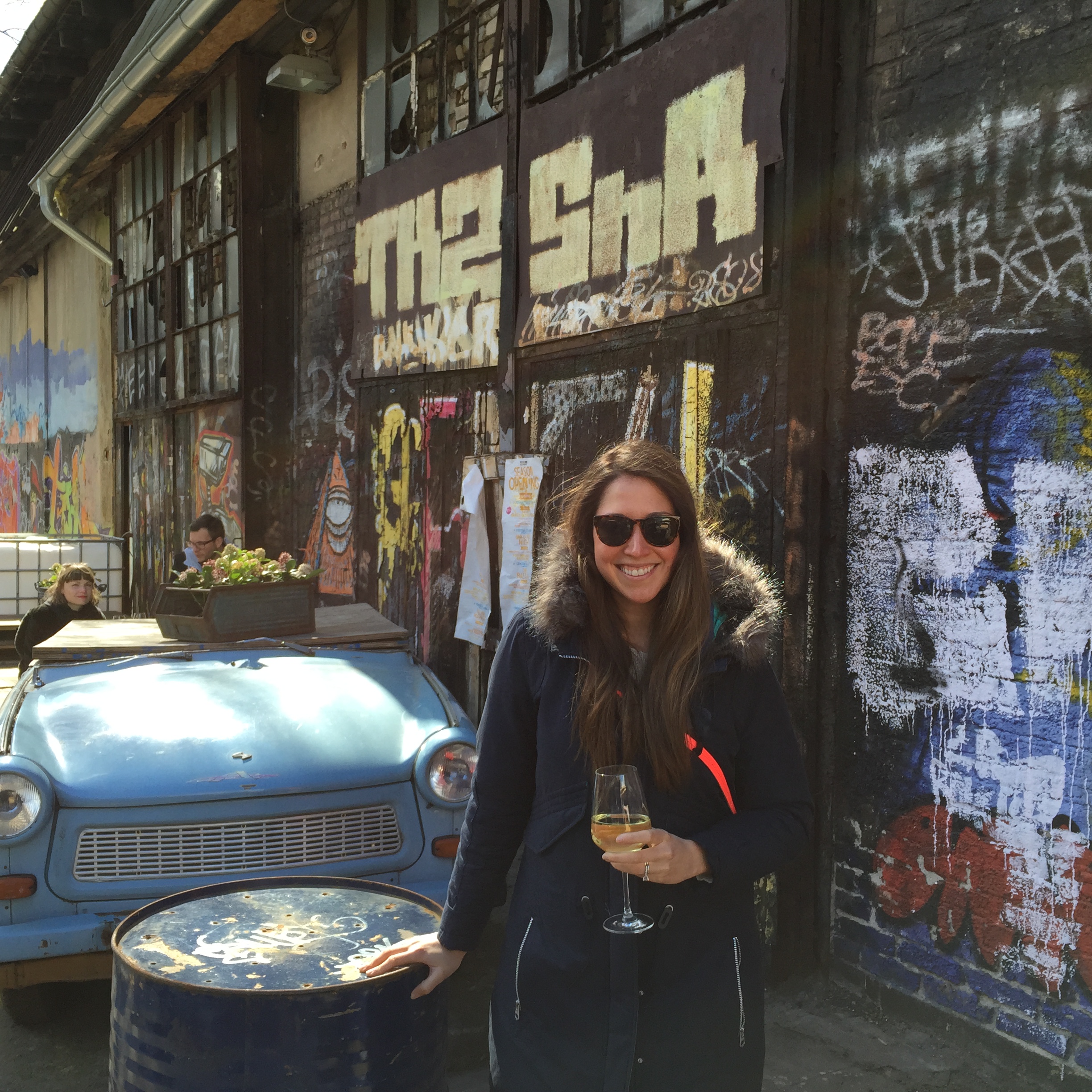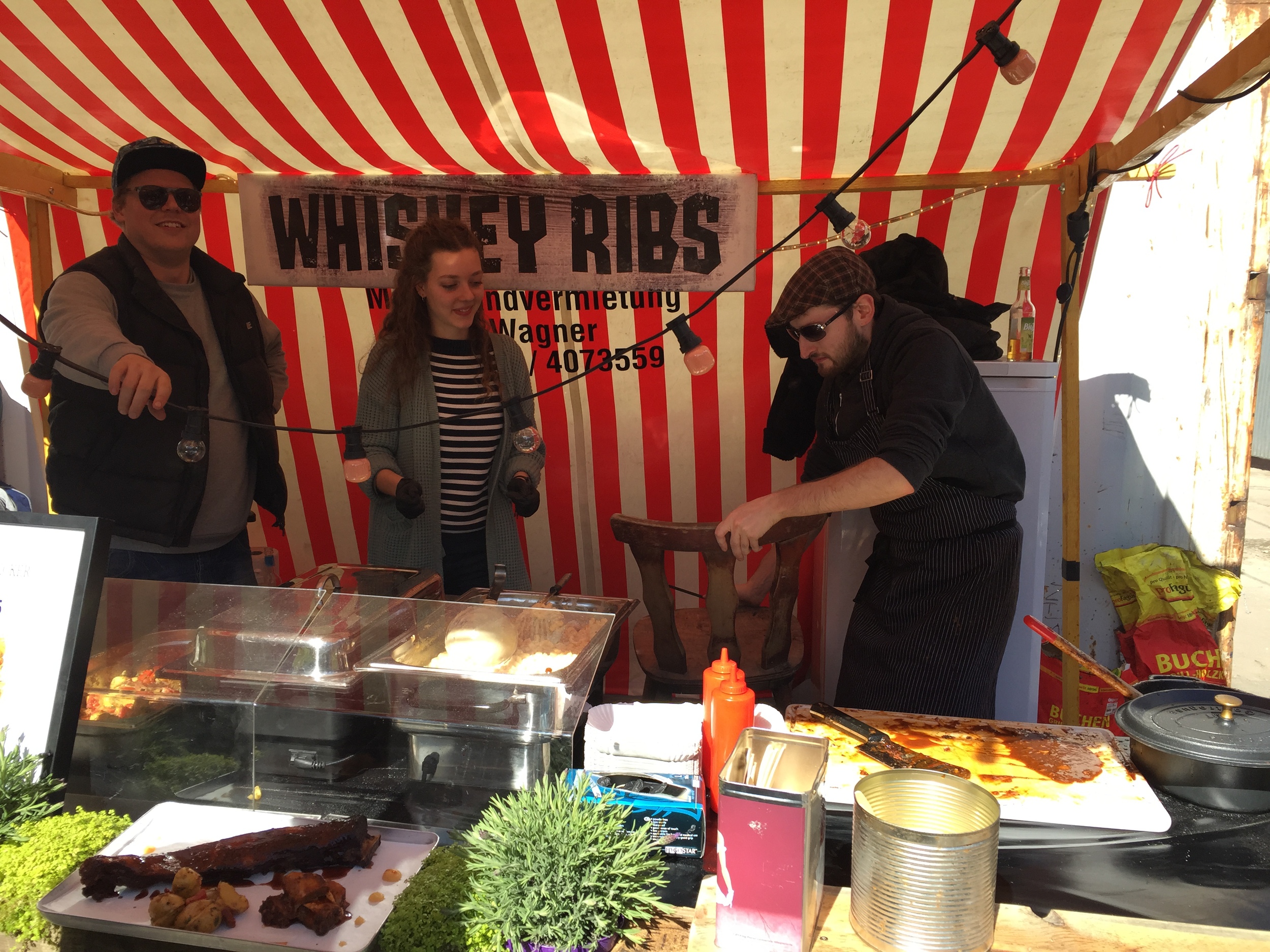 After Andrew had to pull me away from the Village Market, we walked over to the "East Side Gallery", which is where some of the remaining Berlin Wall is. The Gallery consists of 105 paintings by artists from all over the world, they were painted in 1990 on the east side of the Berlin Wall. After walking along the wall we sat near the river and facetime-d with our families for Easter Sunday. The technology is still amazing to me, that I could facetime with my family in New York and show them the Berlin Wall.
We then hopped on the nearby train and took it to the Olympiastadion Berlin (the home to the 1936 Summer Olympics) but also, where we would watch a football game! It was amazing, the crowd was SO loud singing for the teams the entire game. We naturally had to get a big pint of beer and a sausage. It was the perfect way to end our little weekend in Berlin.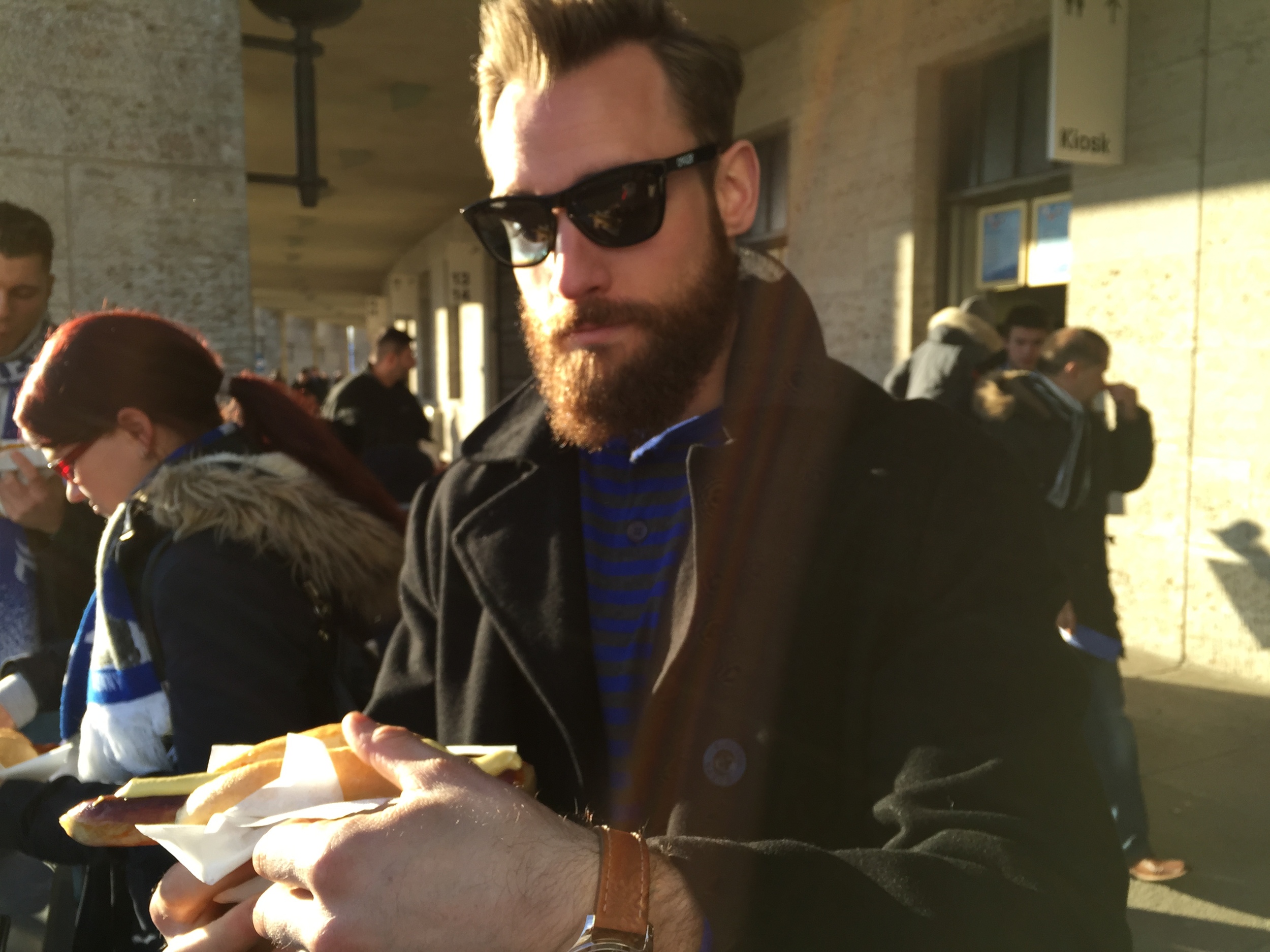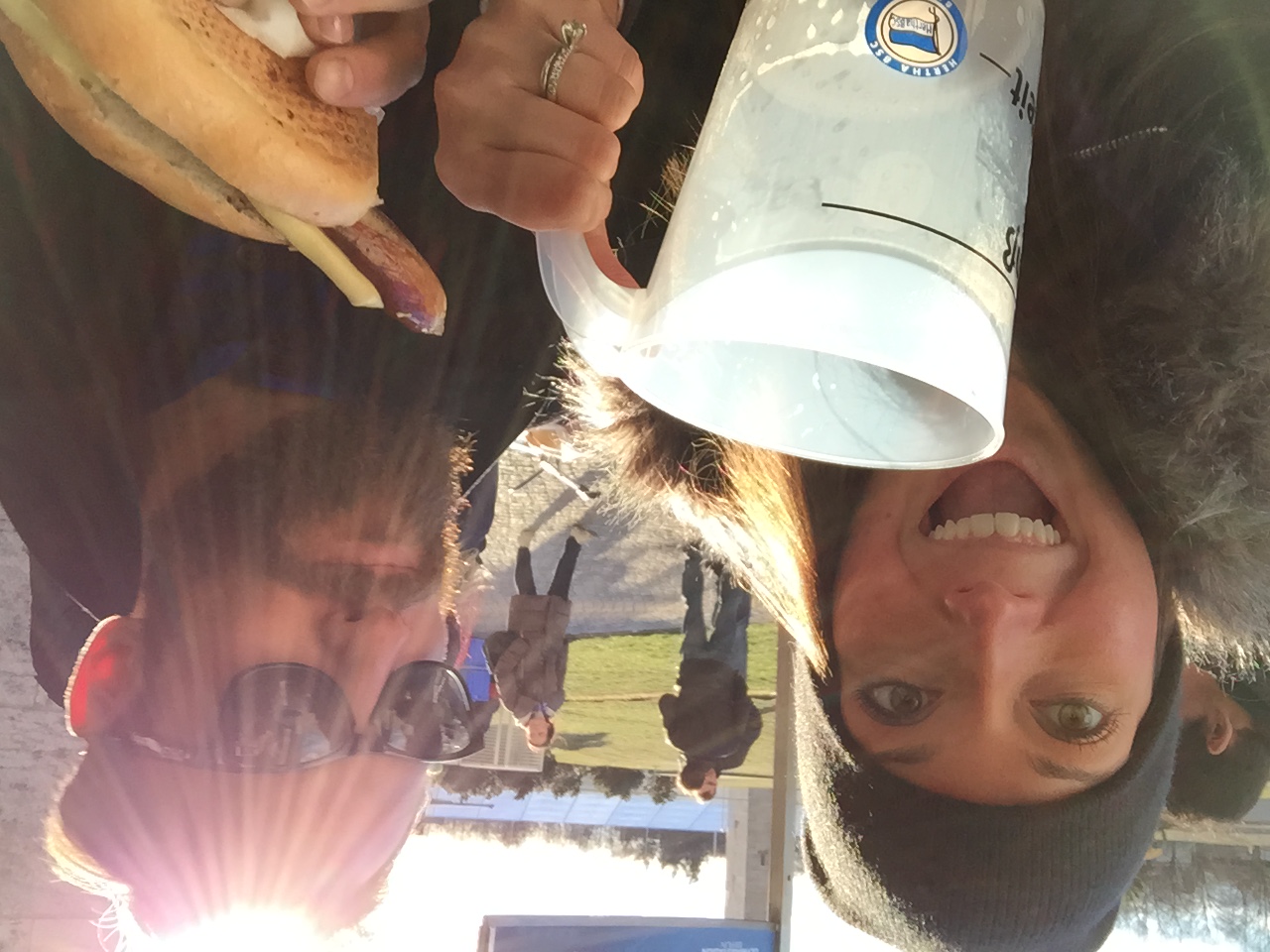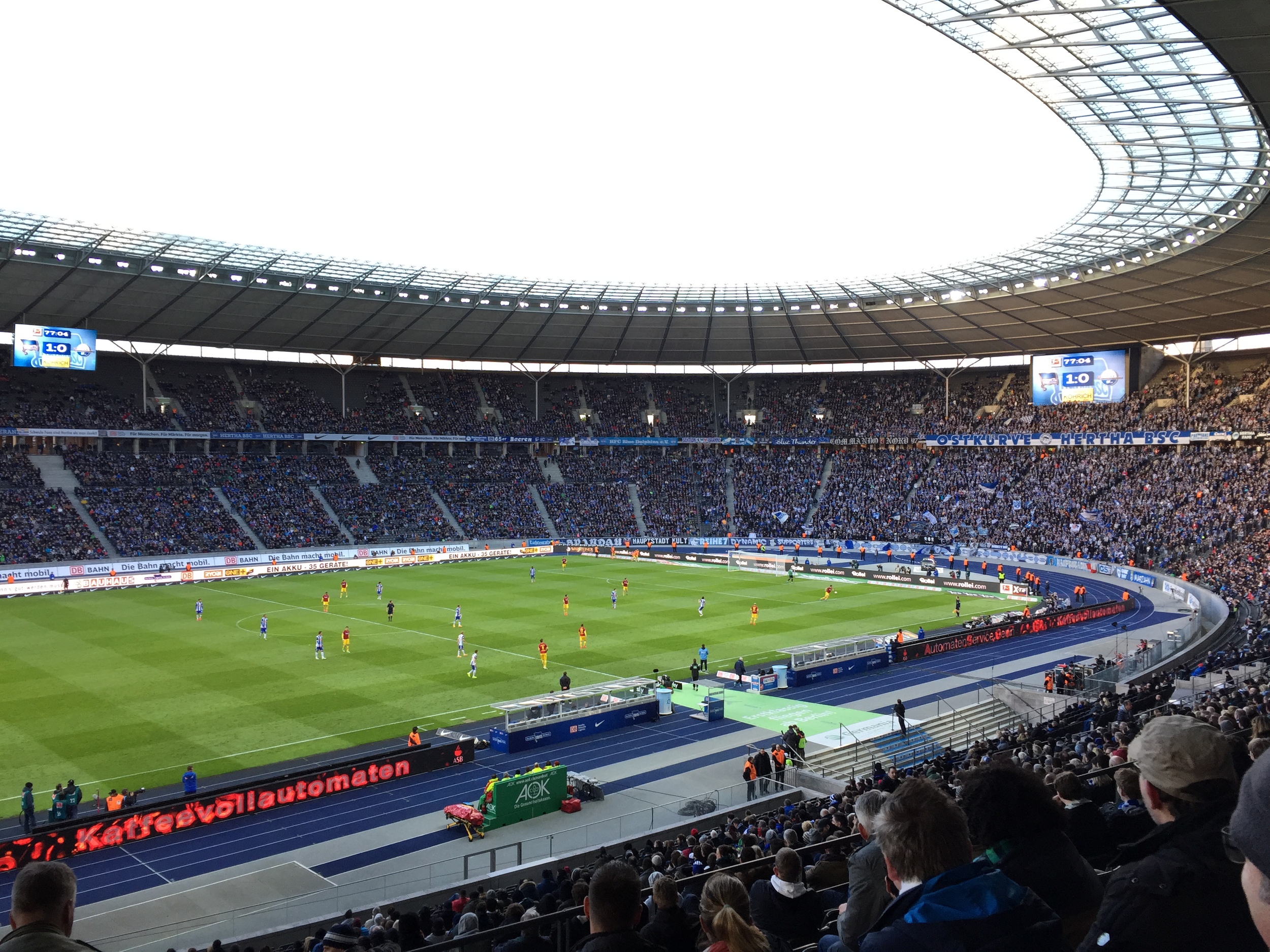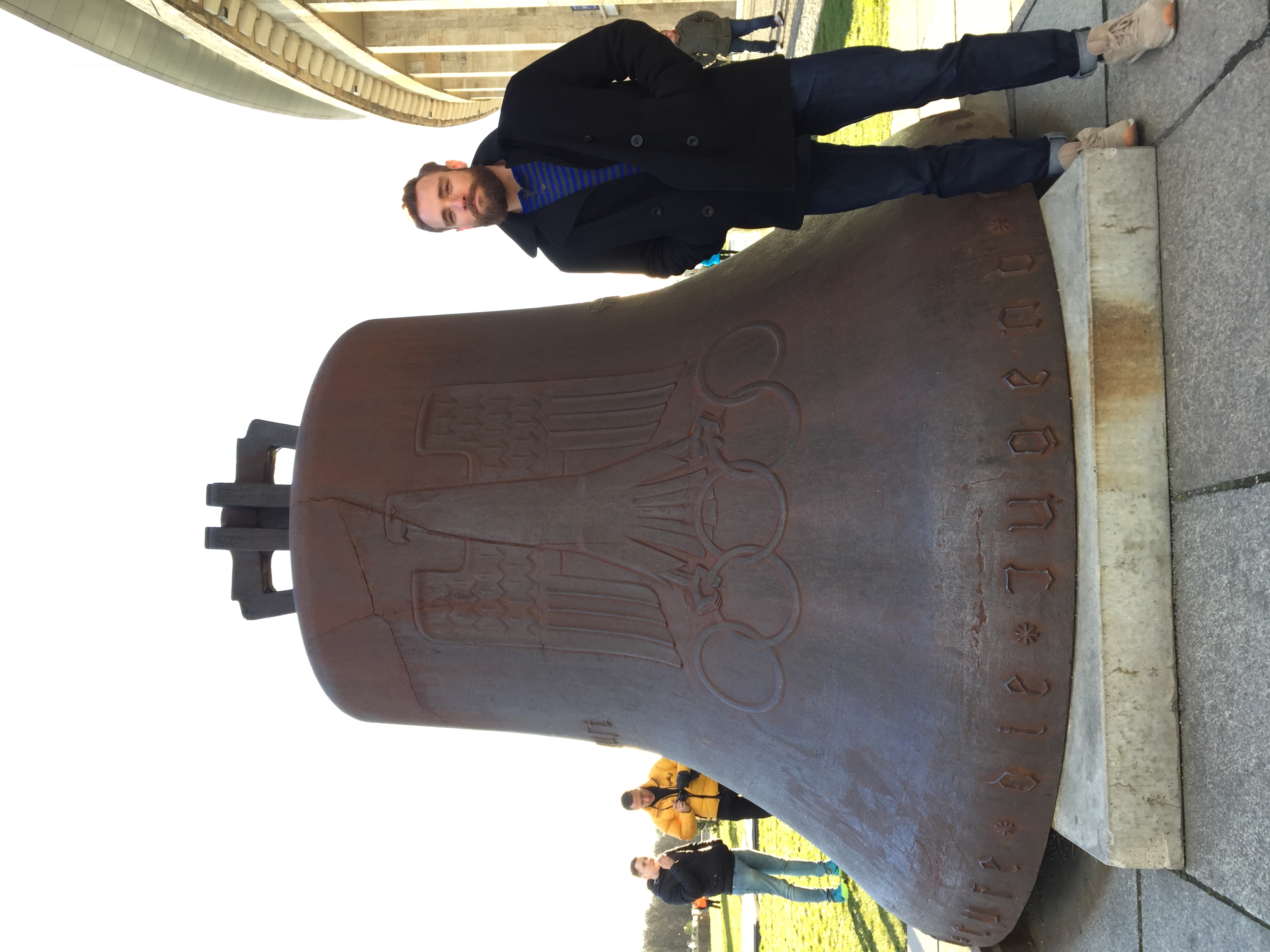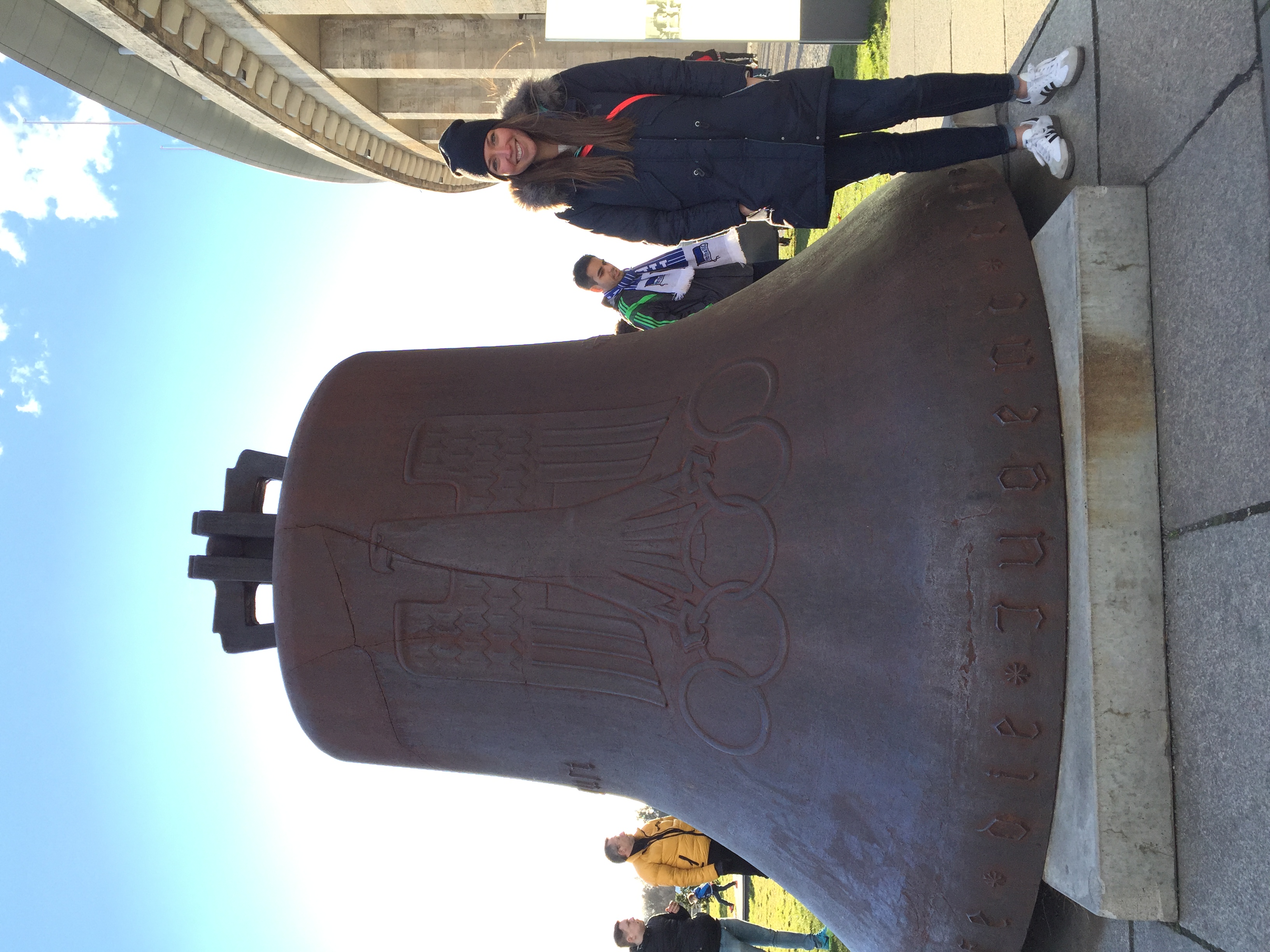 The next morning we woke bright and early and got on the road to head back home to Herzo. Berlin was such a fun city, and I feel like there were so many other places to explore, we will definitely go back again at some point!