Two weeks. Two completely different locations. Varying temperatures. All in one carryon duffle bag.
Some would get stressed at the thought of this, but for me - I honestly enjoyed it. It was a challenge. We would be spending 1 week on a safari in and around the Serengeti, and 1 week on the island, Zanzibar.
I will admit, I probably spent much too much time googling 'what to wear on a safari', as well as too much time shopping for 'safari outfits' - but I don't care! During the weeks leading up to this trip, it was all I could think about! For details on how I booked our trip, see my separate post here.
So I wanted to share my learnings, personal experiences (why did I pack so many nice sandals?? so not necessary!), and actual list of what went into that very packed red duffel bag.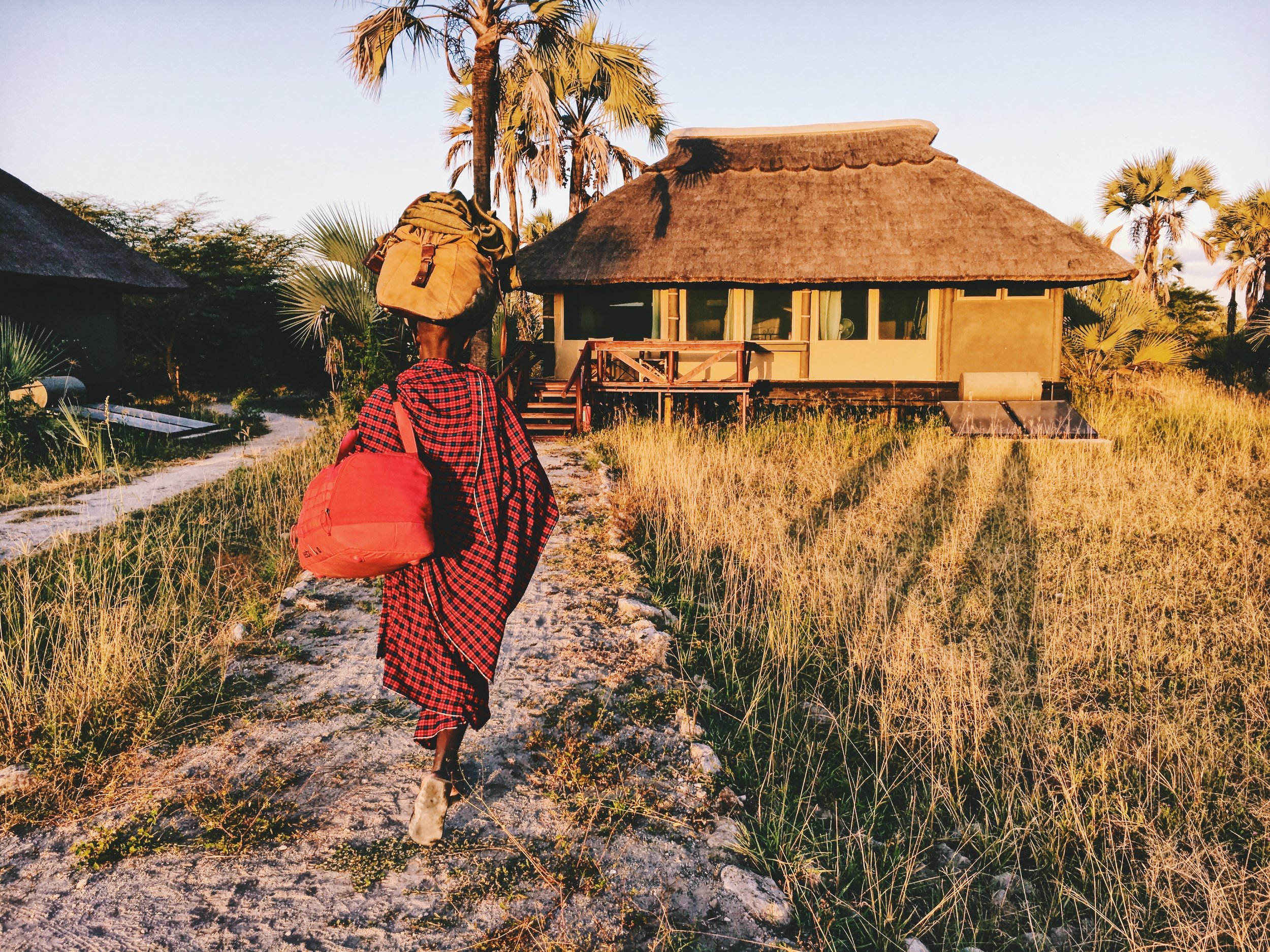 a masai tribe member carrying both of our two weeks worth of luggage!
6 Days on a Safari in Tanzania, Africa.
June 5th - June 10th
Temperature: Technically 'Wintertime'. Highs: 85ish (F) / Lows: 40ish (F). The temperature drastically changes depending on the time of day and what part of Tanzania you are in. The Serengeti = hot, dry, dusty and can get up to mid 80's. Whereas the Ngorongoro Crater is foggy, cold, damp and is about 50 degrees.
Things to keep in mind when packing:
Pack neutrals: tans, greens, off white, brown. You want to blend in with the background as to not scare off the animals.
Layers! I didn't want to bring a 'warm' jacket with me as it would take up too much space, so i'd layer up in the morning and then de-layer as the day went on.
What not to pack:
Black or dark blue. There are these terrible little biting flies called 'tsetse' flies. They are attracted to black & blue fabric.
Anything white - unless you're ok with getting it covered in a layer of dust.
6 Days on the beach in Zanzibar, Africa
June 11th - June 16th
Temperature: The temperature in Zanzibar was perfect. Highs: 85ish (F) perfect for swimming, and crystal clear water / Lows: 75ish (F). Occasional quick rain storms.
Things to keep in mind when packing:
Bring some maxi dresses or longer skirts if you plan to visit the stone town or venture outside of your hotel area. Zanzibar is a muslim island, which means women should have their legs covered past their knees and their shoulders covered.
Cotton / light outfits for those hot island days
What not to pack:
Pack less 'day clothes' as you would plan. You'll be in your bathing suit for most of the day.
Also - Most hotels can do laundry free of charge for you. BUT - they will not wash ladies underwear! So, make sure to pack enough of that!! :)
WHAT I PACKED:
I'll admit, most of my wardrobe was either from H&M or asos. (I have very limited shopping options in Nuremberg, Germany!). But I was determined to still look somewhat stylish while on a Safari!
(in italics are the must have pieces that I wore several times)
ACCESSORIES:
1 lightweight scarf - wore every day.
1 hat - i'll admit, I rarely wore it because it would get so windy in the Landrover. And it was a hassle to carry around for 2 weeks.
TOPS:
4 tank tops (1 white loose tank, 1 white cotton, 1 blush & 1 white/black stripe) - confession - I wore that same white tank 3 times!
2 cotton tees (light grey & dark grey)
1 button down (white)
1 light weight sweater (white) - worn every morning due to the cold.
1 light weight woven jacket (light blue)
BOTTOMS:
2 pairs of pants for safari (green & khaki)
3 pairs of shorts
1 black 'beach onsie/romper' - this was my favorite thing to wear over my bathing suit. You can find a similar one on asos, here.
DRESSES:
3 maxi dresses
1 skirt - bought on asos
2 shorter dresses (for dinners in Zanzibar)
WORKOUT/SWIM:
2 bathing suits (should have packed 3 because we swam at every hotel that had a pool)
4 sports bras
3 workout tanks
3 workout shorts
1 pair of workout tights (too hot to wear working out in zanzibar, but perfect to sleep in on those cold nights near the Ngorongoro Crater!)
SHOES:
white adidas primeknit shoes (my go-to safari shoes)
running shoes (must wear shoes if you run on the beach! I got terrible blisters from the first day running in Zanzibar)
1 pair havaianas - wore these every day in zanzibar
2 pair of nice sandals - never wore them!
Can you believe that all fit in a carry on duffel (including the items below)? I like to think i'm an expert packer by now. ;) The secret is bringing a few favorite items that you can wear with different outfits.
WHAT TO PACK: MEDICATIONS
I had basically packed a few of each of the below in a ziplock baggie. I tried to keep everything to a minimum as to not take up space on the carryon!
Pain Meds (advil, etc)
Cold medicine (Advil cold & sinus)
Antidiarrheal medication (imodium)
Cough drops
Allergy medicine (Clarityn) to help with any bug bite itches
Bug Bite antiseptic (Savlon) - never used this
Tide Pen - because they always come in handy
Disinfectant wipes - good to clean your hands before eating lunch on the safari
Band-aids & neosporin - I had only brought 3 bandaids and I should have brought more due to my blisters from running on the beach
anti-motion sickness medication (Dramamine) - helpful on our boat ride to go snorkling.
Insect repellent - We brought 4 of those small red bottles in the picture, and it was way too much. Only needed 2.
Sunscreen - We brought 2 of those small ones in the picture, and we should have brought more
Vitamins & Emergen-C (vitamin suppliments)
WHAT TO PACK: MISC.
Additional things we packed for our safari/beach holiday in Tanzania, Africa:
Passport (duh)
US Dollars!!! (newer than 2006) they took this over Shillings. Also, ATM's are hard to come by - so be sure to bring enough for you to get by on your trip. (safely packed away in different locations of course)
Itinerary / Travel details printed. (you will NOT get cell service anywhere)
Travel insurance details printed
Yellow Fever / vaccinations paperwork - (more details on this later)
Power Converter - We brought our "UK" power converter, which we were able to use everywhere
A "Good" Camera with a legit zoom. I bought a new 300m lens for my Canon, and it was necessary.
iPhone - for close pictures & videos
Smaller Digital Camera - I honestly didn't use this as my iPhone did the trick for the close up shots.
Selfie Stick
Portable Charger - I bought one of these just for this trip and honestly never needed it. All the safari trucks have outlets for you to charge everything.
Waterproof Casing for iphone - The one i have isn't the best as its a pain to use if you're out snorkling. But it keeps my iphone dry!
GoPro - (i wished we packed) we unfortunately don't have a gopro, but if we did - this is the trip to use it on!
Binoculars - highly recommend. we used it every day. Found on Amazon, here.
Headlamps - I bought ours on Amazon, here.
Journal - I recommend trying to write a bit each night to remember all of those amazing details!
A good relaxing book - For those early nights by the campfire with a glass of wine.
Good sized backpack to pack your 'daily needs' while on the safari (camera equipment, scarf if its cold, etc)
Stay tuned for more updates on our amazing experiences in the Serengeti...