The day after Andrew proposed to me, I went straight onto Pinterest and created my "secret" wedding board. (I didn't need to fill everyone's pages with my 250 pins about 'white pumpkins'). As I said in the earlier post, I was set on having a New England Fall Wedding, so I immediately started pinning everything relating to rustic fall weddings... mason jars, pumpkins, candles, sperry tents, barn weddings, pumpkin favors, outdoor weddings, string lighting, etc.
Well, after we found our gorgeous Bourne Mansion venue, and set the date for June 20th... all of the fall... barn inspired.. mason jars... and pumpkins went straight out the pinterest-window. We turned our 'rustic inspired' wedding inspiration into 'romantic summer wedding' inspiration.
We both did not want to spend an absurd amount of money on this one single day. But as you begin to plan you just see $2,000 go to one thing, and $1,000 go to another... so we decided we'd like to try to do as much as we could on our own.
Save the Dates
We hadn't found our photographers yet, but since it was only 8 months until our wedding and we should have been sending the save the dates soon, we decided to take our own pictures. First, we found our 'inspiration photo', and then we took my Canon DLSR, drove to a park in South Boston (on a very cold day, fyi) and created our very own photoshoot. Since it was just the two of us, that meant we had to prop our camera on the ground, set the timer and then RUN into place! It definitely made for some laughs!
Despite the cold, and the wind (which is a PAIN when you have long hair), we found some that we loved.
We used Wedding Paper Divas to create our save the dates. They had some amazing prices, they were extremely helpful, and they had some great tools to help lighten up/fix our photos that we took.
The below pictures are the "before" and "after". Notice you can see my sock in the original picture! (I couldn't wear heels when I was running to set the camera timer). So we had to try our best to take that out!
Gold Glittered Candles
The original plan was to use the mason jars that we've been saving and put gold glitter on them, but the rustic mason jars didn't go with our romantic mansion theme. But we found these simple glass vases at the Dollar Tree, in both tall and short sizes and they were perfect!! (and only $1 each).
After buying some "Glitter Glue" and a big container of gold glitter on Amazon, we spent a Saturday afternoon painting on glue & sprinkling on glitter. Thank goodness for my other half, because its much easier with two people! I recommend laying down some old newspapers, etc because we are still finding gold glitter around our apartment.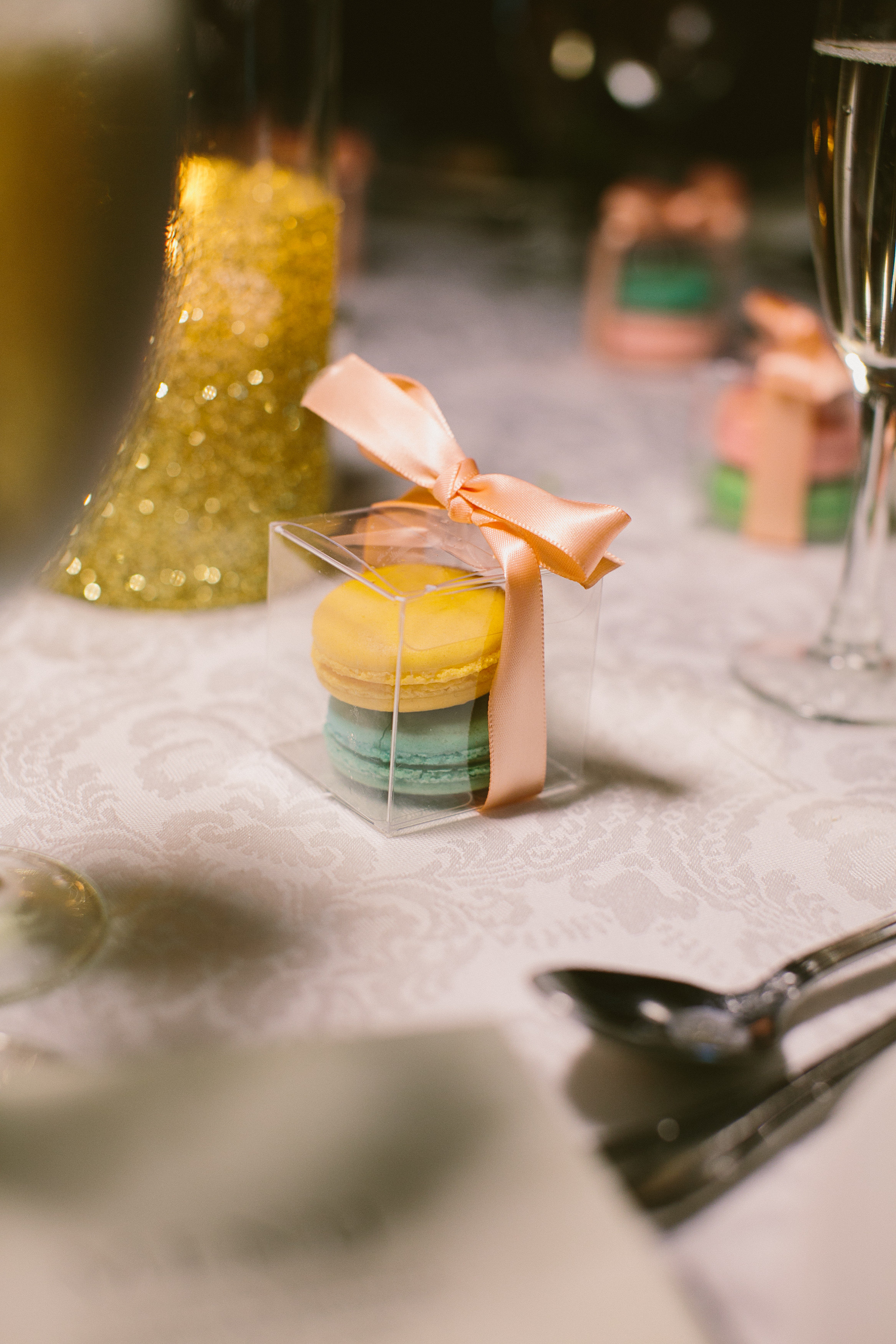 I love when they're lit how they give off a soft, sparkling glow.
Also, if you notice in the pictures the amazing table numbers that go PERFECTLY with our DIY gold glitter candles? Those are actually from my good friend Lisa Wood's wedding! We drove down to PA the weekend before our wedding for theirs, and we noticed how perfect their table numbers were. We thought - "Is it terribly rude to ask if we can TAKE their table numbers?" I mean, some people take flowers at the end of the night... but taking their decorations? Turns out, Lisa and her mom were delighted to give them to us! Thank goodness for them, otherwise we just had print outs of table numbers.
The Invitations
Once again, we went with Wedding Paper Divas to create our invitations. It was so great because they would send you any invitations that you "liked", as well as different paper & printing options. Which once again, turned into a decision making process with price points/ benefits / etc that way we could make an educated decision.
Once we made our decision, we added our own little DIY touch. We found some bakers twine that had a bit of gold thread to tie onto the invitations. We also ordered online a wax stamper of an "N" that we could seal the envelopes. These are some added details that would be expensive to pay someone else to do, so we thought - why not spend a Saturday night sitting on the floor, with some wine, a movie on in the background putting together invitations for 200 guests?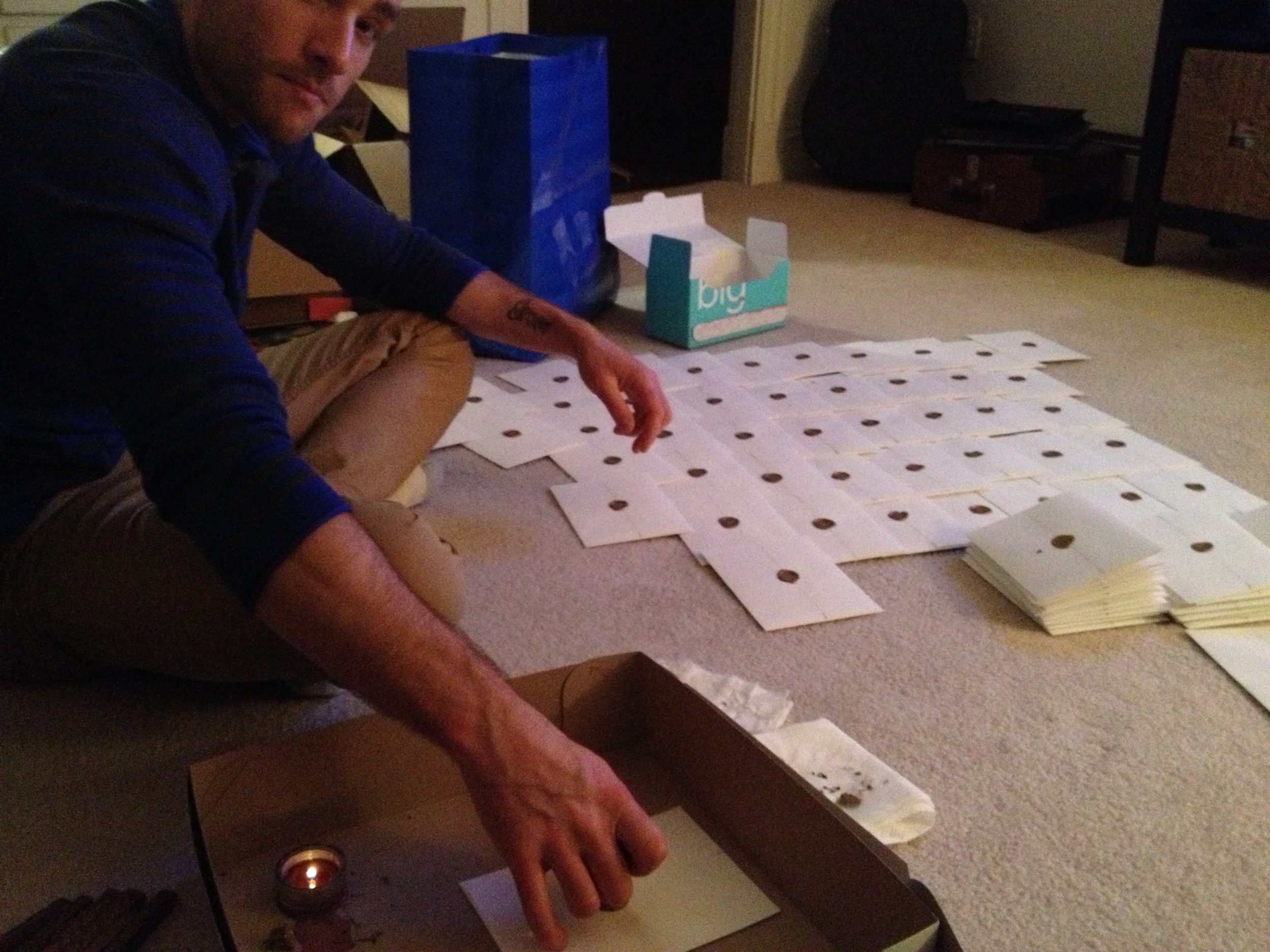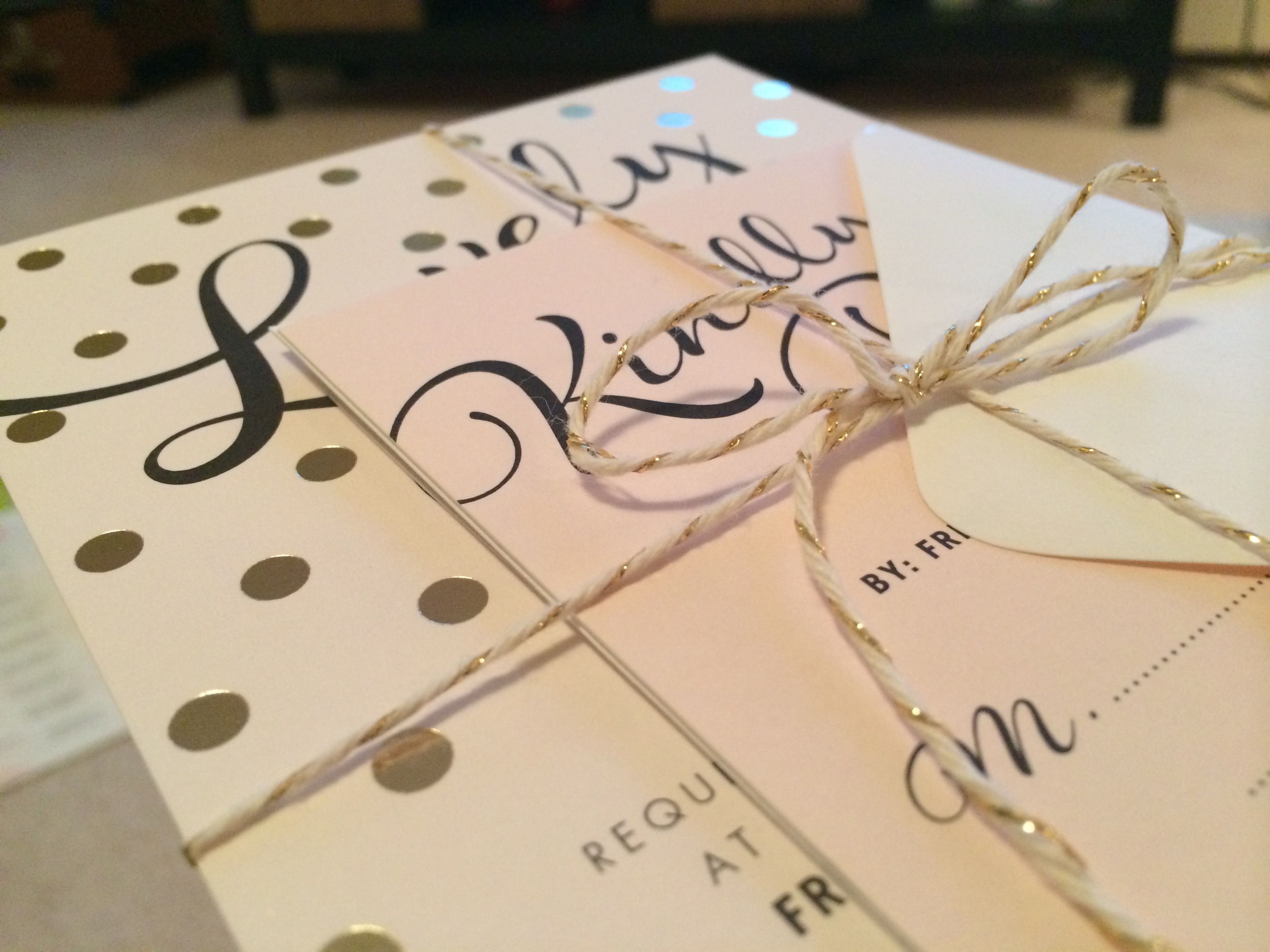 We wanted something a bit special for the seating chart, but we didn't want a table filled with hundreds of little folded cards with everyone's name on them. We found this "window pane" at Target and thought, this is perfect! At first, we planned on hand writing everyone's name & table numbers with a white paint marker (180 guests = a lot of room for error). So we cheated, and went with the easy route of typing & printing everything! Much easier + looks just as nice!
Additional DIY Projects
Coloring Books for children at the tables.
I found an easy print out template online, printed them, and then tied them together with the gold bakers twine. We actually put these together 3 days before our wedding on the drive from MA to NY! (When you're on a time crunch, you make sure those 4 hours of driving are well used). Then we tied some crayons together with the twine as well. Super easy & adorable.
French Macaron Favors
Ok, so these are not completely "DIY".... There was a point in time where I did think about baking my own macarons as favors for my wedding. I thought "how amazing would that be? everyone would have something baked from our home, made with love". And then I did the math, and that would have been 360 macarons I would have had to bake! (in the middle of planning a wedding). That quickly knocked some sense into me.
I found a macaron bakery on Etsy (Elle Merced Macarons) https://www.etsy.com/shop/ElleMercedmacarons and ordered everything through them. They were fantastic! I chose whatever flavors I wanted, the color of the ribbon, etc. And they were delivered perfectly on time (2 days before the wedding), so I could enlist my amazing family to help put the favors together.
Family Wedding Photos
Andrew and I both came from such amazing and loving families. And there are some beautiful true love stories that we are so inspired by in our family. We wanted them and their special days to be part of our wedding too. We added little tags with their wedding date and how we're related to them, and put them on the mantles around the Bourne Mansion.
Although it took some time, the DIY projects are actually some of my favorite parts about our wedding. It made it feel like our guests got to see a piece of us while they were celebrating our marriage.
Venue: The Bourne Mansion
Photographer: Amara Photo